England, My England
The Film

England, My England tells the life story of Henry Purcell, arguably England's greatest and most celebrated composer. Directed by Tony Palmer, who has specialised in films about composers, Purcell's life spans the Restoration, the Fire of London, the Monmouth Rebellion and the Glorious Revolution. From childhood until his death, he was closely connected to the court of the Stuart monarchs, and was witness to momentous events which helped shape his life and work. Purcell's music plays throughout the film, sometimes in the background, sometimes with the musicians and singers on screen.
This is a 'knowing' film. It mixes time zones, and doubles actors: twentieth-century scenes show us the same actors in a different guise, as Charles researches Purcell's life in order to write a screenplay. The juxtaposition of the Royal Court Theatre in the 1960s and the royal court of the Stuarts is used to compare the two periods; to highlight similarities of circumstance and patterns of continuity. Narration plays a big part, and singers, interspersing the action, occasionally sing direct to camera. Dryden, Pepys, Charles and Harry all talk directly to us in voiceover. Actors walk out of one set in the modern era, and into the Restoration, and the audience accepts that we have moved from one century to another. This interchanging of time periods is accentuated towards the end of the film, as Charles gets closer to knowing his subject and completing his play. Actual news footage is also used, to point out continuing issues of religion and politics. This all serves to reflect the similar situations for artists, and society in general, across the ages.
The twentieth-century Charles is in many ways an alter ego of John Osborne, the original 'Angry Young Man'. The tirades against society and the changing world, are evident in much of his work. Like Charles, Osborne was an actor and writer with the English Stage Company at the Royal Court Theatre in the 1950s and '60s, and acted in several George Bernard Shaw plays. His own most famous character, Jimmy Porter (Look Back in Anger), comes to mind as one listens to Simon Callow venting Osborne's spleen! As with Jimmy Porter, Charles's misogyny is evident in his treatment of Nell and Barbara. Osborne's collection of essays, Damn You, England, includes diary entries and newspaper articles written throughout his career, and covers a wide range of topics, from theatre to the royal family. In the film, Charles describes England in Purcell's time:
"what Charles [II] wanted and what Purcell wrote about was a country of tolerance, irony, kindliness. Not like today, when the modesty of heroes is despatched with derision and contempt and has thus thrown up a generation for which honour is a forgotten meaningless currency."
By the end of the film, Purcell's world is not seen as quite so rosy. Both Charles/Osborne and Purcell regret what they have lost - what was seen as their birthright has been taken from them.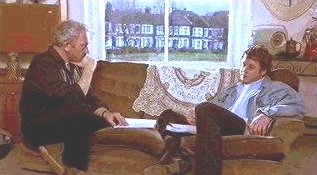 Harry (bitterly)
You'll see; I will become a grand object of public unconcern.
My Dido? Not even performed. At least, not in public.
Since Dioclesian, fifty works for the stage.
In only four years. And the result?
Penury. Begging for enough to…
Tell me, is this ugly, cheerless world in which we live
Supposed to be typical? Is this all?

Charles
Well, at least you never assembled a lot of sloppy fads and served them up as innovations.

Harry
I mourned the unknown, the loss of what went before, the deprivation of what, even as a child, seemed irrevocably my own, my birthplace…my country; that, at least, seemed as tangible as death.

Charles
Maybe I've looked for answers where there are none. Everyone demands answers, like happiness, as their right. How hopeless! How ironic…

Harry
Ah, irony! That English virtue which
Purifies our rowdy passion.
Hope comes from within, my friend.
When hope goes, we freeze.
Hope falters, but never fawns or crowds,
Never stands in line; even in dread and noise
It strains for coherence, for a snatch of harmony.
An old trumpet, played upon but not playing,
Sounding, but only in my head.
Alas, coherence conceals… as much as it reveals
To the lost, like me, who contemplate the wreckage.
The film begins and ends with images of pollution and destruction. Heavy industry destroys 'this green and pleasant land'. Ecological destruction is as much a part of the loss of OUR birthright, as the political machinations which darken the lives of Charles and Harry. It's not all doom and gloom, though. Nell, for one, sees entry into the Common Market as the future, not as an end. Purcell dies in penury, with even his major works little played. Bill felt that Purcell would be a good subject for Charles to write about, because so little was known of his life. He was celebrated in his lifetime, but not rewarded in material terms. But Purcell is remembered. His work is celebrated, perhaps now more than ever, three hundred years after his death.


Debbie Norris

~

For more information on the ideas behind the making of England, My England, see Michael White's CD sleeve notes, which include some thoughts by the director, Tony Palmer, and the conductor, John Eliot Gardiner.

Click here to view the Synopsis

Click here to view the complete Cast List

Home /The Film / Sets and locations/Biographies/ The Music / Quotes/
History / Sources, Links and Credits / Guestbook/Site Plan

Copyright belongs to Deborah Norris, 2001